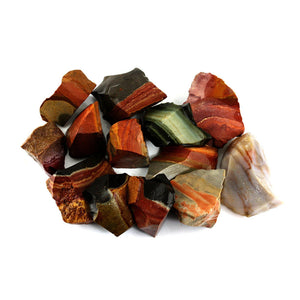 Jasper is a crystal of gentleness and relaxation. It is professed to enhance one's ability to relax and bring tranquility, comfort, and healing. It is used to stabilize your personal energy and aura, especially during astral travel and for grounding oneself. It is said to help with contentment, compassion, nurturing, consolation, and courage for conflict ahead and gentle endings.
Jasper crystal is used to ease stress and increase stamina, and the ability to adjust to change. It is also used to ease allergies and is said to be good for the liver, gallbladder, and soothing to the stomach.
 Desert jasper is a great cleanser and can draw away plaguing and nagging thoughts that are negative or not productive. The stone is nurturing and will encourage positive energy in your life.