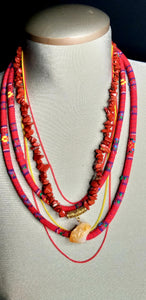 Red Jasper is a good stone for healing both in a
physical
and metaphysical sense. 
Wearing a Red Jasper necklace focuses your mind and eases your worries because it resonates with all the 
energy
 centers in the body. It also helps in removing energy blockages to bring an overall balance and improved health.
Citrine promotes motivation, activates creativity and encourages self-expression. Enhances concentration and revitalizes the mind. It releases negative traits, depression, fears and phobias. Emotionally balancing.